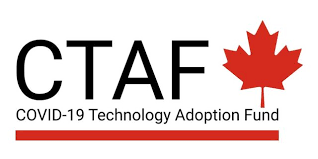 Covid-19 Technology Adoption Fund
CTAF will provide eligible businesses, start-ups, municipalities, and Indigenous communities across Northern Ontario (within the Algoma Region) with access to capital grant funding to acquire digital technology and e-business and marketing solutions to ensure they can survive and adapt to the challenges presented by COVID-19.
The Covid-19 Technology Adoption Fund is capital grant funding for eligible applicants of up to $10,000 with a minimum contribution of 25% from the applicant towards the project.
Eligible project types for digital technology and e-business and marketing :
Productivity
Time tracking software for mapping out where time is spent
Streamline work processes with digital dictation
Use project management and task management tools to stay on top of daily responsibilities
Create a filing system to make it easier to sort, save, share and find documents
Develop an efficient email management process that makes it easier to stay on top of the flow of messages
2. Financial Management
Use an on-line invoicing service to reduce the cost of collecting from customers
Use on-line budget tracking to keep on top of, and reduce expenses
File reports more efficiently on-line
Use a comprehensive accounting software to streamline business finances
3. Social Marketing Solution
Use software to create a marketing plan that they can edit, update and share with their team
Please note this excludes any form of advertising
4. Collaboration & Learning
Webinars or web conferences for keeping everyone informed with travelfree face-to-face time
Expand their knowledge and empower their team with on-line business training
Set up an Intranet for local file sharing
Communicate quickly and clearly with team messaging software
5. Customer Service
Use social media to conduct customer service and CRM set-up
Set up an on-line help desk or ticket system to handle customer issues
Allow clients to schedule appointments on-line at their convenience
Use on-line surveys and questionnaires to seek customer feedback
6. Mobile Working & Commuting
Create a mobile office that allows them to work productively from anywhere
Try remote desktop applications to access files on their computer
Help companies go paperless, to save money on supplies and storage in their office
How To Apply:
You can submit your application online by filling out our online form HERE. Please contact ttrecroce@ssmic.com if you experience any issues completing or submitting your application form.
Once you have submitted your application form, a member of SSMIC staff will reach out to make contact with you to hold a remote consultation to review your application and project.
If you have any questions regarding applying for this program, please contact the Sault Ste Marie Innovation Centre at 1-705-942-7927.