Northern Ontario Recovery Program

Your business could be eligible for up to a $25,000 GRANT to help adjust to the impacts of Covid-19 and the Wawa EDC is here to help!

On Monday, September 28, 2020, Greg Rickford, Minister of Energy, Northern Development and Mines and Minister of Indigenous Affairs announced the creation of a new short-term Northern Ontario Recovery Program (NORP) to help businesses adapt to new COVID-19 public health guidelines and protect employees and customers.
Companies can apply to NORP for assistance with projects that help them adjust to the impacts of COVID-19, such as, but not limited to; building renovations and new constructions, customer and employee safety installations, equipment purchases, including personal protective equipment (PPE) marketing for new business initiatives, and restructuring of business operations.
Applications are open with the Northern Ontario Heritage Fund Corporation (NOHFC) administering the new program from October 1, 2020 to December 31, 2020, and funds are given on a first come first serve basis.
To learn more or apply click the following link: https://nohfc.ca/en/pages/programs/northern-ontario-recovery-program
For more information about applying, please contact Linda Bouchard Berzel by calling 1-705-255-8316 or by sending an email to linda.bouchard-berzel@ontario.ca.
If you need assistance in filling out an application, please call the EDC of Wawa at 705-856-4419, or email jlabonte@edcwawa.ca, we would be happy to help!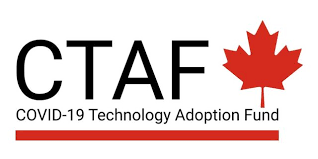 COVID-19 Technology Adoption Fund
CTAF will provide eligible businesses, start-ups, municipalities, and Indigenous communities across Northern Ontario (within the Algoma Region) with access to capital grant funding to acquire digital technology and e-business and marketing solutions to ensure they can survive and adapt to the challenges presented by COVID-19.
The Covid-19 Technology Adoption Fund is capital grant funding for eligible applicants of up to $10,000 with a minimum contribution of 25% from the applicant towards the project.
Eligible project types for digital technology and e-business and marketing :
Productivity
Time tracking software for mapping out where time is spent
Streamline work processes with digital dictation
Use project management and task management tools to stay on top of daily responsibilities
Create a filing system to make it easier to sort, save, share and find documents
Develop an efficient email management process that makes it easier to stay on top of the flow of messages
2. Financial Management
Use an on-line invoicing service to reduce the cost of collecting from customers
Use on-line budget tracking to keep on top of, and reduce expenses
File reports more efficiently on-line
Use a comprehensive accounting software to streamline business finances
3. Social Marketing Solution
Use software to create a marketing plan that they can edit, update and share with their team
Please note this excludes any form of advertising
4. Collaboration & Learning
Webinars or web conferences for keeping everyone informed with travelfree face-to-face time
Expand their knowledge and empower their team with on-line business training
Set up an Intranet for local file sharing
Communicate quickly and clearly with team messaging software
5. Customer Service
Use social media to conduct customer service and CRM set-up
Set up an on-line help desk or ticket system to handle customer issues
Allow clients to schedule appointments on-line at their convenience
Use on-line surveys and questionnaires to seek customer feedback
6. Mobile Working & Commuting
Create a mobile office that allows them to work productively from anywhere
Try remote desktop applications to access files on their computer
Help companies go paperless, to save money on supplies and storage in their office
How To Apply:
You can submit your application online by filling out our online form HERE. Please contact ttrecroce@ssmic.com if you experience any issues completing or submitting your application form.
Once you have submitted your application form, a member of SSMIC staff will reach out to make contact with you to hold a remote consultation to review your application and project.
If you have any questions regarding applying for this program, please contact the Sault Ste Marie Innovation Centre at 1-705-942-7927.
Future Proof – NORCAT
Sudbury, ON. NORCAT, the global leader in skilled labour training and innovation services, is excited to announce it has been selected by Digital Main Street to deliver its new Future Proof program across Northern Ontario. Launched today, the Future Proof program will help entrepreneurs leverage digital solutions and adapt their businesses to regain lost revenue and become more resilient and competitive as the economy recovers in a post COVID-19 world.
The nine-month project, led by Digital Main Street, is delivered in partnership with the Federal Economic Development Agency for Southern Ontario (FedDev Ontario), the Ontario Ministry of Economic Development, Job Creation and Trade, Invest Ottawa, Communitech and NORCAT.
"As Sudbury's regional innovation centre, NORCAT's goal is to accelerate the growth of innovative companies that will drive future economic and social prosperity for Canada," says Don Duval, NORCAT CEO. "We are proud to collaborate with Digital Main Street and our regional and provincial partners to deliver the Future Proof program across Northern Ontario. By empowering small businesses with digital solutions, data insights and the tools to evolve and adapt to today's economic climate, we can help entrepreneurs across Northern Ontario not only recover, but grow and thrive."
The Future Proof program targets small and medium-sized businesses in the retail, hospitality, service and trades sectors looking for an advanced level of support to take their established online presence and ambitious market growth plans to the next level. Through the program, business owners will have access to teams of qualified students, experienced digital marketing professionals and business advisors to develop sophisticated digital marketing plans to identify and pursue new domestic and global market opportunities through online sales.
"Ontario's small businesses are at the heart of our economy and will play a key role in its recovery. That is why we have invested in Digital Main Street. To help entrepreneurs take advantage of the increase in online commerce by supporting them to execute digital transformations, and ultimately succeed at doing business in a digital world. The Future Proof Program will help protect Ontario's main streets, support local jobs and help our economy come back stronger than ever," says The Honourable Mélanie Joly, Minister of Economic Development and Official Languages.
Through Future Proof, NORCAT will work with over 120 small businesses across Northern Ontario before the project's completion in March 2021. The program is available to small business owners across Northern Ontario, including Sudbury, Sault Ste. Marie, Thunder Bay, North Bay, Timmins and Kenora districts.
"Providing businesses with the tools they need to adapt, recover and grow is a key part of our economic recovery plan throughout reopening and into the future. The Future Proof Program powered offered through Digital Main Street is just one example of how Ontario's recovery will be driven by innovation," says The Honourable Vic Fedeli, Minister of Economic Development, Job Creation and Trade
Future Proof is the latest initiative developed by Digital Main Street, complimenting the successful ShopHERE and Ontario Grants programs. Created through a partnership between the City of Toronto and the Toronto Association of Business Improvement Areas to help businesses utilize technology such as websites, social media and e-commerce platforms to grow and pursue new opportunities, Digital Main Street has engaged with over 6,000 main street businesses since 2016.
For more information please contact Lindsay Lane | NORCAT | llane@norcat.org | 705.521.8324 x337
Ontario's Main St. Recovery Plan
Ontario Supports Small Main Street Businesses with $60 Million in Funding through PPE Grant. Ontario's Main Street Recovery Plan and intends to introduce the Main Street Recovery Act, 2020, proposed legislation that would support small businesses and modernize rules to allow them to innovate and meet the challenges of today. If passed, the act will remove hurdles faced by small businesses and allow them to pursue new opportunities — while maintaining or enhancing protections for public health, safety and the environment.
The plan includes:
A one-time grant of up to $1,000 for eligible main street small businesses — in retail, food and accommodations, and other service sectors — with two to nine employees to help offset the unexpected costs of personal protective equipment (PPE);
Ontario's Small Business COVID-19 Recovery Network, which links 47 Small Business Enterprise Centres across the province as places where small businesses can access tailored advice and information on local, provincial and federal programs;
Digital Main Street Squads to help small businesses grow online;
Mental health supports for families, frontline workers, young people, children, and Indigenous communities;
Ontario's Small Business Recovery Webpage to provide single window access to small business supports.
For up to date information regarding this and other programs, visit:
https://covid-19.ontario.ca/small-business-recovery-resources